Producer: Convera Technologies International Ltd
RetrievalWare integrates with: RetrievalWare is designed for search electronic information across an enormous range of distributed sources.
Basic information
RetrievalWare is a secure, highly scalable platform for mission critical search and categorization in the enterprise. Built on robust, field-proven technology, RetrievalWare's distributed architecture provides high performance infrastructure to index, search, categorize and link information across an enormous range of distributed sources. The platform's cartridge architecture allows the system's functionality to be tailored to best address industry specific problems, language requirements, knowledge discovery or other information management needs.
Optimized Search Precision & Recall
Through the combination of advanced search methods and unique categorization & classification technologies, RetrievalWare achieves optimized precision & recall across vast and diverse information sources. Offering three search methods – concept, pattern and Boolean – which can be used independently or interactively, users have the flexibility to search the way they want with confidence in the results.
Concept search
Concept search does what we naturally do in conversation with each other – account for the individual differences in the way we express similar ideas. Using Convera's unique and powerful Semantic Networks, RetrievalWare can search for concepts or units of meaning instead of merely simple terms and exact word matches. With millions of concepts and terms interlinked by millions of word relationships, the Semantic Networks help to pinpoint all relevant meanings without requiring users to define every possible way of expressing their idea.
Pattern search
Concept search is a powerful tool, addressing major challenges in delivering high precision and recall. However, the form or spelling of words may vary widely as the result of misspellings in original documents or subsequent input errors which may occur during OCR and data entry, or as the result of legitimate alternative spellings. In these instances Convera's patented Adaptive Pattern Recognition Processing (APRP™) uses a sophisticated vote and rate scheme that considers a number of different features of the pattern instead of just character pairs. It can find words even when the word is misspelled by the searcher, within the document text or where there are legitimate spelling differences.
Boolean search
RetrievalWare also provides a powerful Boolean or keyword search mode, which is a very efficient, flexible and accurate information retrieval tool. This form of search is also useful as a filter when used in concert with RetrievalWare's concept and/or pattern search to limit and rank results. RetrievalWare's powerful indexing and search engine uses advanced linguistic analysis to ensure high precision and recall for both boolean and concept search modes.
Categorization and Dynamic Classification
Users can launch a search and automatically classify the results based on pre-defined or dynamically generated classifications. The underlying taxonomies can consist of Convera's pre-packaged industry taxonomies, customer defined taxonomies or custom taxonomies supplied by Convera's Taxonomy Development Partners. By combining these classifications, users are able to isolate and discover critically relevant information that other search and retrieval software cannot uncover.
Categorization and Dynamic Classification represent a behavioral and technological leap for users and organizations alike. Rather than being forced to fit searches within the constraints of inflexible categories, users can dynamically create their own information categories based on the context of their search at the moment. Further, those categories can inter-relate and display information from widely disparate sources and locations, permitting users to discover knowledge that might have otherwise remained hidden.
Dynamic knowledge discovery helps organizations better share information and expertise, make faster more informed decisions and reap the full value of all the enterprise's human and information assets.
Repository and Data Access
RetrievalWare's secure, distributed repository access is managed by Convera's Synchronizers, which support more than 200 documents types found within file servers, groupware systems, relational databases, document management systems and web servers. The Synchronizers automatically recognize modifications, changes or updates to information assets system-wide and automatically update the indexes to maintain accuracy of each information repository.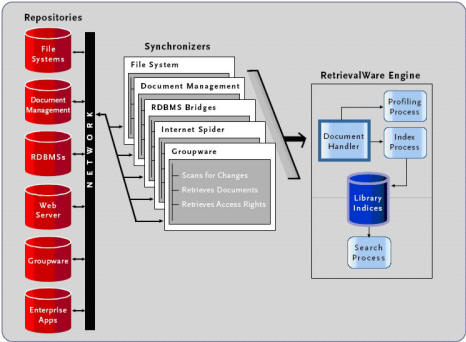 Convera Family of Synchronizers
Complete and accurate search results can only be achieved when your information management solution has access to all the necessary content available. Convera RetrievalWare offers a family of synchronizers for establishing access to the most common repositories where enterprise information is stored. With RetrievalWare's Synchronizers you can index and retrieve documents from a variety of repositories with just a few simple steps.
RetrievalWare Synchronizers automatically perform three key functions - locating documents, notification of document changes and extending access controls of the repository. The synchronizer's primary function is to locate all the assets in a given repository and deliver them to the RetrievalWare indexing engine. Then the Synchronizer watches the repository and detects when existing documents are changed, removed or when new documents are added, so the index can be updated. RetrievalWare's Synchronizers not only handle top-level documents in a repository, they also handle their attachments. This is particularly important for Groupware repositories such as Lotus Notes and MS Exchange.
Synchronizers work with RetrievalWare's Real Time Agent Profiles option to give users the ability to set up custom profiles. Profiles enable the users to identify the types of documents for which they should receive automatic notification.
With the help of the Synchronizers, RetrievalWare provides a security infrastructure that extends to and leverages the native security of the various document repositories. RetrievalWare Synchronizers use the access control list of the repository to determine the access rights of each document. This access information is then included in the index so RetrievalWare delivers only the documents for which the user has access rights. To maintain appropriate security, the Synchronizer monitors each repository's access control list for permission changes and passes them to RetrievalWare.
Through a modular approach, the RetrievalWare architecture allows any combination of Synchronizers to be used. The standard RetrievalWare offering includes a file system Synchronizer. Additional Synchronizers are available for relational database management systems such as MS SQL, Oracle, Sybase, Informix and Teradata; document management systems such as Documentum and FileNET; and groupware servers such as Microsoft Exchange and Lotus Notes. If an organization's solution requires access to a repository or file type not currently supported, the RetrievalWare Developer Extensions SDK includes the AFM Toolkit that allows customers or Convera's professional services group to build the necessary Synchronizers.
System's Architecture
Scalability is more than just fast searching. Rather, it is the ability to maintain search performance even when the demands on the system rise by orders of magnitude. RetrievalWare is designed from the ground up for the highly robust, secure environment required in enterprise-class mission critical applications. RetrievalWare adapts to deliver maximum performance on every network regardless of size, load, or configuration. Furthermore, the implementation of Java 2 Enterprise Edition (J2EE) enhances the RetrievalWare platform with a modern, flexible architecture, employing industry standards to achieve broad integration support with leading development and deployment environments, including Web Services and Microsoft .Net. New, pure Java APIs enable the rapid deployment of new features and functionality as well as easier integration for customers, partners and OEMs.
Scalability and Modularity
Because search and classification are used both within and outside enterprises with a variable number of users and dynamic content, it is very important that the enabling technology be able to grow to support changing needs with a minimal effect on performance. RetrievalWare was developed from its inception on a distributed process architecture, which provides the foundation for building scalable solutions that can maintain performance even as demands on the system rise by orders of magnitude. RetrievalWare can leverage additional server machines and maintain search performance over large databases and large numbers of users.
Security
RetrievalWare provides an integrated security infrastructure that extends and leverages the native security of modern information management and document management repositories that are connected to the RetrievalWare knowledge space. RetrievalWare's crossrepository, cross-platform security protocol ensures that users only gain access to the documents and libraries they are authorized to see, preserving security of the total system. For categorization & classification, the administration of folders is done via a secure login so that there is control over who can create and edit the categories.