Producer: Stellent Inc.
Modules: Stellent Imane/Document Managment, Stellent Business Process Managment, Stellent Records Managment
Stellent IBPM integrates with: FormAnalyzer.
The Stellent IBPM (Imaging and Business Process Management) system helps companies manage their business content over the course of its life — from creation through archive. Stellent enables organizations to extend, leverage, and integrate critical business applications such as enterprise resource planning (ERP) and line-of-business (LOB) systems, allowing increased effectiveness of strategic infrastructure investments while reducing costs, improving process efficiency, and enhancing customer and vendor satisfaction.
The Stellent Imaging and Business Process Management system comprises three integrated subsystems, which work together to capture, store, manage and process business documents and information:
Stellent Image Management – electronic document archive;

Stellent Business Process Management – workflow;

Stellent Records Management – management of record conformant with legal requirements.
Each of above subsystems can work standalone or can be integrated with third-party solutions.
The Stellent IBPM solution is built upon a powerful, three tiers. The solution is designed and implemented using a component-based model and supporting industry standards. Construction of the intermediate system modules (called services) is such, that it is possible to run multiple instances of the same services in one system. This allows to flexibly solve scale problems (data size and number of users), fault tolerance, adapting system's implementation to organization structures and needs, extension of the system with the growing needs.
Architecture of the Stellent IBPM system is shown in the diagram below.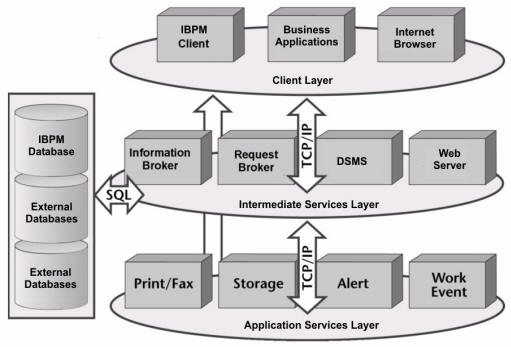 SEQ Diagram. Three-tier architecture of the Stellent IBPM system.
For the end user, IBPM offers user-friendly, graphical environment and basic document processing functions such as searching, viewing, annotating or integration with office software. From the point of view of the management when planning the implementation of electronic archive and document workflow architectural solutions are more important. This is also because they influence deployment costs and extension costs in the future, flexibility in adapting to changing structures and needs, efficiency, data security, scalability, fault tolerance and integration costs with existing systems. In the following chapters you can find description of IBPM system first and foremost concentrated on internal organization of the system and standard used in implementation.
Stellent IBPM is designed to work under Microsoft Windows systems (both server and clients). There is a Web user interface available working with Microsoft Internet Explorer browser. The system supports Microsoft SQL Server and Oracle database servers.
Stellent Image Management plays a role of a repository (archive) of documents. Stellent Image Management allows all users — internal or remote — to capture, store, manage, search and display documents with associated data. As a document source, system accepts paper, fax, e-mail, HTML/XML, documents created by third-party systems (Word, Excel, PDF, etc.) or third-party ERP and CRM systems (Enterprice Resource Planing, Customer Relationship Management). The Stellent system also understands reports generated by other IT systems (COLD technology). The users need not be concerned about the format or source of transactional documents. From their desktops, they can directly access all of the information using Stellent Image Management.
Documents are grouped into logical archives described by custom metadata. It is possible to create any documents hierarchy. Data storage can be organized into automatically managed groups of physical medias (Stellent supports magnetic, optical, tape and CD discs).
Stellent Image/Document Management can work as a document archive for Stellent Business Process Management subsystem, or similar third-party systems.
Stellent BPM allows implementing business processes with simple graphical techniques that allow the product to be customized to fit any processing environment, without any development. Stellent BPM enhances overall connectivity of business processes, breaking down organizational, technological and geographical barriers. Process members (both inside and outside companies), can initiate new tasks, trace their status, add or modify tasks' data, according to their privileges. Tasks are automatically passed between process members, according to process definition (an example of process definition is shown in the diagram below).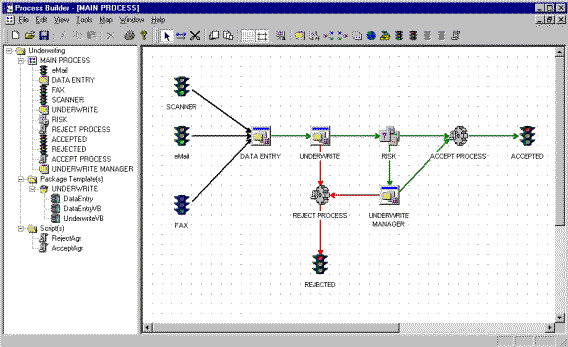 Diagram 1
. Example of Business Process Definition.
1.3
Stellent Fixed Record Management
Stellent's DoD 5015.2-certified records management technology for Imaging and BPM is designed to help managers and employees identify, classify, track and manage all forms of information from inception through the end of the content lifecycle. Whether the record is in the form of a physical document, an email with attachments or an electronic document, the technology is able to manage all types of corporate records. Users can establish retention periods, organize and retain these documents and other assets for required period of time, and provide quick access to them on demand.
With Stellent, administrators can establish a file plan for the organization of files, folders and documents, then create retention schedules that govern how the multiple classifications of documents are to be stored. To ensure a successful rollout of the solution, end-users can utilize the Web, a Windows desktop client or third-party applications to designate any type of content as a record, from any location.
Possibility to extend existing system and necessity to assure high system reliability are the main features making Stellent IBPM a very attractive solution. Modular architecture of the system is the main factor addressing both problems.
A radical change in access points to the archive, creation of the new archives or deployment of the business process management in new enterprise departments can lead to the situation in which existing system becomes ineffective. In Stellent IBPM, necessary in such cases system rebuilding, is limited in most cases to the deployment of additional services. Stellent IBPM services which decide about the system efficiency can be replicated up to 36 instances in one system domain. Inserting new service into the system's topology is automatic, and does not need system or currently operating modules reconfiguration.
The problem of system reliability (fault tolerance) has been solved in a similar way – using modular system construction. The operation of Stellent IBPM services is monitored on-line by the Request Broker, which in case of fault detection of any of the system services, can automatically remove service from domain and redirect client requests to still working services. This mechanism can be leveraged by physical replication of critical system resources. Integrity of the system data and backup copies is ensured on-line with the use of Double Take software. Also in this case fault is detected automatically, and functions of the damaged computer are taken over by its double.